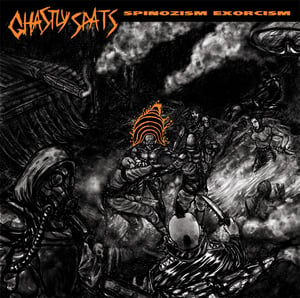 $

19.95
RIP048 Ghastly Spats - Spinozism Exorcism LP
https://soundcloud.com/ripsociety/ghastly-spats-obsessed
The cover art looks like it could be from an nuclear war obsessed trash band but nope that's not what it sounds like. Imagine if the no-wave group DNA attempted to replicate Captain Beefheart's Magic Band, or think a similar agenda to the nasty-yet-slightly-artsy Cleveland groups like early Pere Ubu, Easter Monkeys or Jazz Destroyers. I can't think of Sydney band that's made this type of racket since The Slugfckers! This record is a monster, dense and disorientating, a calculated cacophony. An ugly band for an ugly world. Ghastly Spats is Laura Hunt (synth), Heather Swan (bass), Lincoln Brown (guitar), Colin Thompson (drums). Guitarist Lincoln says, "We still consider the original 4 members from the 1st release to be the only permanent ones. But we now try to always play with someone on trash can when possible." Additional members on this record include, Matt Nev (Day Ravies, Mope City) on trash can, Millie Hall (Destiny 300) on sax, Sam Chiplin (Housewives) on guitar/noise, Ela Stiles on flute, Tristan Price on zither/noise, Liza Kaplan on violin and Luke Palmer on ribbon synth. Ghastly Spats have only released one 7" EP previous to this which flew under the radar but eventually gained high praise from Terminal Boredom, Maximum Rock N Roll, X-Mist, Yellow Green Red, Still Single and Byron Coley in The Wire (landing them in his Top 10 of the year).
One their previous EP:
"Two women and two men conspire to make these five discordant, miserable blasts of detuned, mid-tempo punk anger, like Huggy Bear collaborating with Los Llamarada or Teenage Jesus & the Jerks or something like that; you get the sense that they may have started from more traditional directions, but something went gloriously wrong, and all the frustration and misunderstanding from that event dominates this band's sound." - Doug Mosurock, Still Single.
" Really, my hopes weren't high for this one, but it turns out Ghastly Spats are pretty wonderful after all – they're like the Mentally Ill of the modern Australian garage scene, in that these songs seem to be guided by true malice and perversion, not the standard punk-rock wave-length everyone else is riding." - Yellow Green Red.